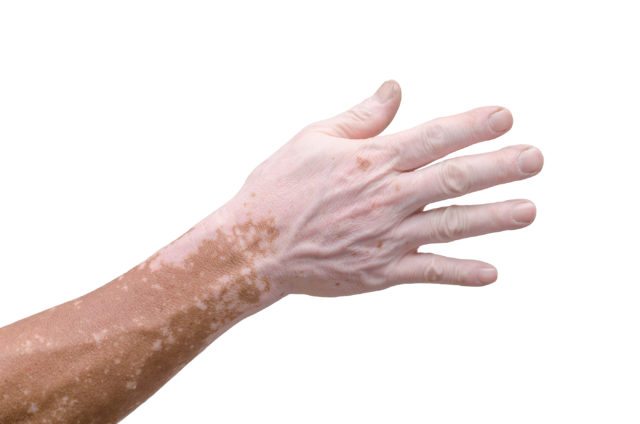 Question: I've just been diagnosed with vitiligo, now what do I do?
Answer: There are different treatments available for people with vitiligo, but it's important to know that there is no cure. Being informed about vitiligo and knowing what to expect is an important first step to deciding whether and what treatment may be right for you. Since the only physical symptom of vitiligo is the loss of color in patches of skin, hair, or mucosal surfaces (like the mouth or nose), you may first want to consider using makeup or self-tanner to cover up discolored areas. These solutions can address the symptoms at a low cost without a risk of treatment failure or side effects and long-term risks.
If you wish to consider medical treatments with your doctor, keep in mind that no treatments stop the progression of the disease. Patches can come back or spread to new places. Not all treatments work for everyone, some take more time, and others can cause side effects. Types of treatments include:
Creams and ointments

Medications that affect the immune system

Light therapies

Depigmentation (lightening the unaffected skin to blend with widespread whitened patches)

Skin or blister grafting (transplanting color from healthy areas of skin onto vitiligo-affected areas)

Tattooing procedures
To help understand how others treat and cope with vitiligo and to get more support, consider joining a support group or visiting web forums and blogs.  Helping your friends and family understand your situation and speaking with others with vitiligo will provide you with support and knowledge while you move forward and cope with change.