Why is it that so many people don't know what vitiligo is?
How many of us learn about vitiligo after the fact, after our diagnosis? Vitiligo isn't common knowledge. It's one of those things we all must confront as we consider the ramifications of a small little spot of depigmented skin that will most likely grow. Even with people like Michael Jackson, Lee Thomas and the model Chantelle Winnie, many people don't know what vitiligo is. It takes one of us, those with vitiligo to talk about vitiligo.
And that can be very hard to deal with.
In the mid and late 70s and into the early 80s, a civil rights crusader by the name of Parren Mitchell fought to introduce a bill to the United States Congress: The National Vitiligo Control Act. This act declared:
…the findings of Congress that vitiligo is a disfiguring, inheritable disease which cripples the personality of individuals suffering from it and which afflicts about three percent of the U.S. population.

Provides, under the Public Health Service Act, that the Secretary of Health, Education, and Welfare shall carry out a program to develop information and educational materials relating to vitiligo and to distribute such information and materials to persons providing health care and to the general public.
Who was Parren Mitchell and why did he care about vitiligo?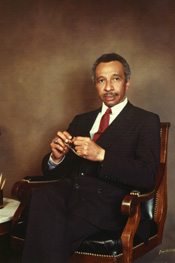 Becoming the first black congressman from Maryland in 1971, being the first black person to attend graduate school at the University of Maryland and being a member of the Congressional Black Caucus, Rep. Parren Mitchell was a leader of the Civil Rights movement and at the forefront of efforts to help minority owned small businesses.
Civil Rights, anti-poverty, minority business owners, a World War II hero awarded the Purple Heart, and vitiligo awareness. And that's just highlights of this man's life.
How did vitiligo fit in? As Martin Luther King Jr. famously said:
I have a dream that my four little children will one day live in a nation where they will not be judged by the color of their skin, but by the content of their character.
Martin Luther King, Jr.
This is what everyone with vitiligo asks for: to be judged by the content of their character not by the colors of their skin. And vitiligo is particularly noticeable with dark skin tones because of the contrast.
Being a champion of those that society too often ignores, Rep. Mitchell fought for almost ten years to have federal funds earmarked for vitiligo research. Vitiligo "cripples the personality of individuals suffering from it" wrote Rep. Mitchell. He sought to better our understanding of a disease that changes skin tones, changes perceptions.
Rep. Mitchell recognized what those of us with vitiligo know all too well: vitiligo can be crippling to our sense of self. And people with vitiligo need help.
But what kind of help do we need? That's something we will cover in part two.
And what do you think? Is vitiligo awareness a civil rights issue?