Have you heard of Talia Castellano?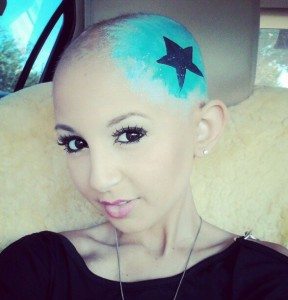 I discovered her story online and it is a story worth sharing with those of us with vitiligo.
What's the story? From her website:

About Talia:
12 years old and dreams of being a celebrity make up artist. Currently battling Neuroblastoma and preleukemia, a rare combination and both cancers are very aggressive. Talia is an upbeat individual despite her decision for no more treatment at this time.

She enjoys doing makeup tutorials on YouTube and posting her thoughts of the moment on her V-logs. She's bright, not shy and talks openly about her cancer. Outgoing and bald and she feels like her make up is her wig.

Talia's dream would be to do a make up session for Ellen Degeneres, her favorite television personality.

The Cancer Timeline:

Feb 14, 2007: First diagnosed with Neuroblastoma
Sept. 18th 2008: First relapse
Aug. 13, 2010. Second relapse
April 8, 2011. Third relapse
July 27, 2012. New disease and cancer spread to bones
Aug. 6, 2012. Preluekemia.
Rather than resigning herself to an unknown fate she pursues her dream and is living life as fully as she is able. Her website and social media presence is significant and her story and voice has reached hundreds of thousands of people, at the age of 13!
She writes:
Yipee!  For those of you who know me, well you know then.  But for those who don't, what can I say?  I am a 13 year old girl full of amazing ideas and energy.  I love my family, friends, and doggie, Bella.  I am an aspiring makeup artist and post most of my tutorials on YouTube.

I have been battling cancer on and off now for six years, but don't let that define who I really am… on the inside.  All though, I am bald from the chemo, I have been told that I have made being bald beautiful and may even create a style around it one day (lol).  Well, for now that's all I can think of.
She is bald and is beautifully herself. She has not allowed herself to be defined by her disease, or her physical condition or the perceptions of others. She presents herself as she wants you to see her. This takes courage and strength. It is an example for all of us that struggle with our physical condition, our diseases and our self-image.
You can follow her here:
Happy new year!